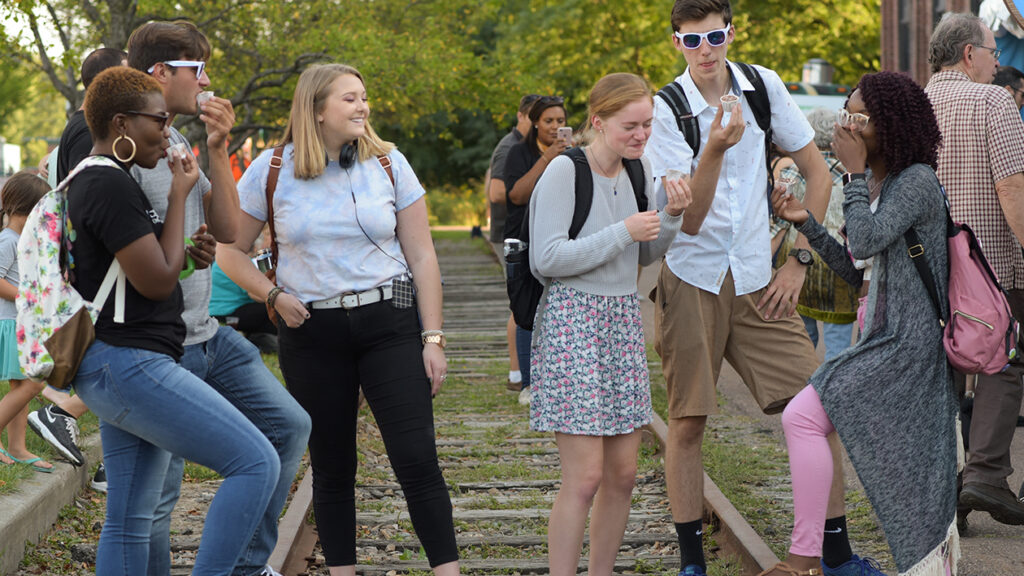 The Champlain Pre-College Summer Program Experience
The residential experience during Champlain College's Pre-College Summer Programs is structured and supervised yet offers high school students the opportunity to experience what it's like to live and learn on our beautiful college campus.
We employ a team of resident Program Mentors for each program who, in partnership with the Program Coordinator, create a vibrant and exciting on-campus community for our residential students. Our Program Mentors are chosen through a highly selective application and interview process and are all either current students majoring in the field or recent graduates from Champlain College. In addition to having firsthand experience studying the relevant majors at Champlain, these students have also received extensive training from our Residential Life staff, preparing them to create a safe and supportive experience for our attendees.
Sample Schedule*
| | |
| --- | --- |
| 8:00 – 8:45 AM | Breakfast |
| 8:45 – 9:00 AM | Morning Meeting |
| 9:00 AM – 12:00 PM | Instruction |
| 12:00 – 1:00 PM | Lunch |
| 1:00 – 2:00 PM | Recreation / Rest |
| 2:00 – 5:30 PM | Instruction |
| 5:30 – 6:30 PM | Dinner |
| 6:30 – 10:00 PM | Evening Activity |
| 10:00 – 11:00 PM | Back to Residence Halls |
| 11:00 PM | Lights Out |
Students will receive more details about the daily schedule on arrival day.
*The daily schedule for a credit-bearing program will differ slightly. Please see each Program page for more information.
Check-in & Check-out Time
Non-Credit Bearing Programs
Families should plan to have their students on campus for Check-in between 9:00 AM and 9:30 AM on the first day of their Academy. After Check-in, students will meet with their Program Coordinators and begin their Academy experience. On the final day of their Academy, families are invited to attend final presentation events with their student at 10:30 AM. The day will wrap up between 12:00 PM and 1:00 PM. Detailed information will be sent to registered families prior to their arrival on campus.
Times may vary slightly. Final schedules will be sent to all registered families.
Credit Bearing Programs
Credit-bearing Program Families should plan to have their students on campus for Check-in at 2:30 PM on the first day of their Academy. After Check-in, students will meet with their Program Coordinators and begin their on-campus experience. On the final day of their program, families are invited to attend final presentation events with their student at 9:00 AM and the day will wrap up by 12:00 PM. Detailed information will be sent to registered families prior to their arrival on campus.
Times may vary slightly. Final schedules will be sent to all registered families.
On-Campus Housing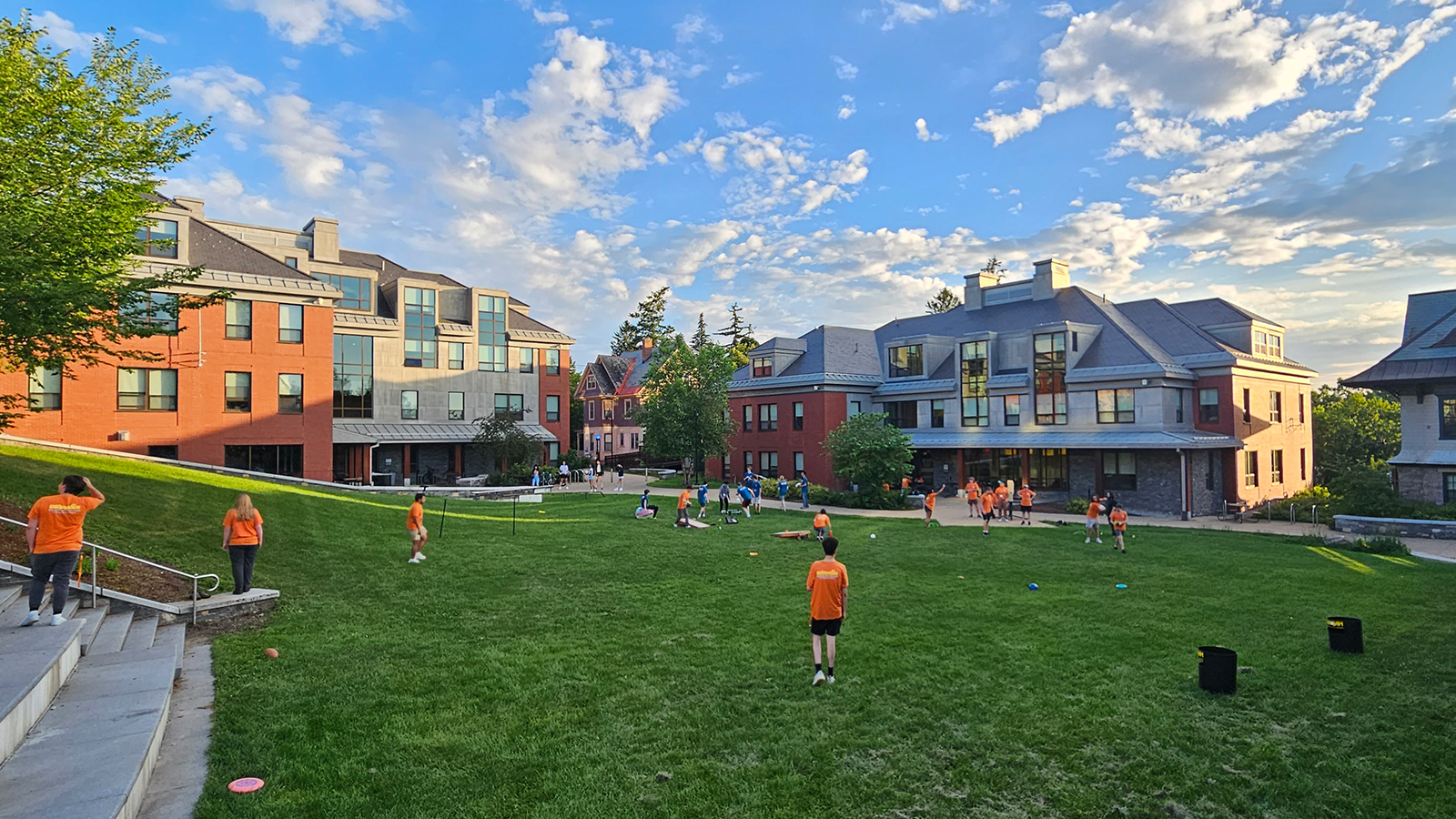 Students will stay in one of Champlain's newest contemporary residence halls located right in the heart of the Champlain College campus. These residence halls feature open lounge areas, a dining area, and small, shared study rooms. Our residence halls are air-conditioned and handicap accessible. Just outside is a landscaped grass courtyard with outdoor tables and amphitheater seating. Students live in double-occupancy rooms with one roommate. Rooms are furnished with twin extra-long beds, dressers, desks with chairs. The college provides pillows but students can bring their own if they'd like like to. Students should also bring their own twin XL sheets, a blanket and shower towel. In general, roommates are matched by students' fields of interest, gender identity, and grade level. Individual programs will occupy entire floors within one of our residence halls and each floor will be gender-inclusive. There are several semiprivate bathrooms available on each floor that will be shared by students staying in the nearby rooms.
On-Campus Dining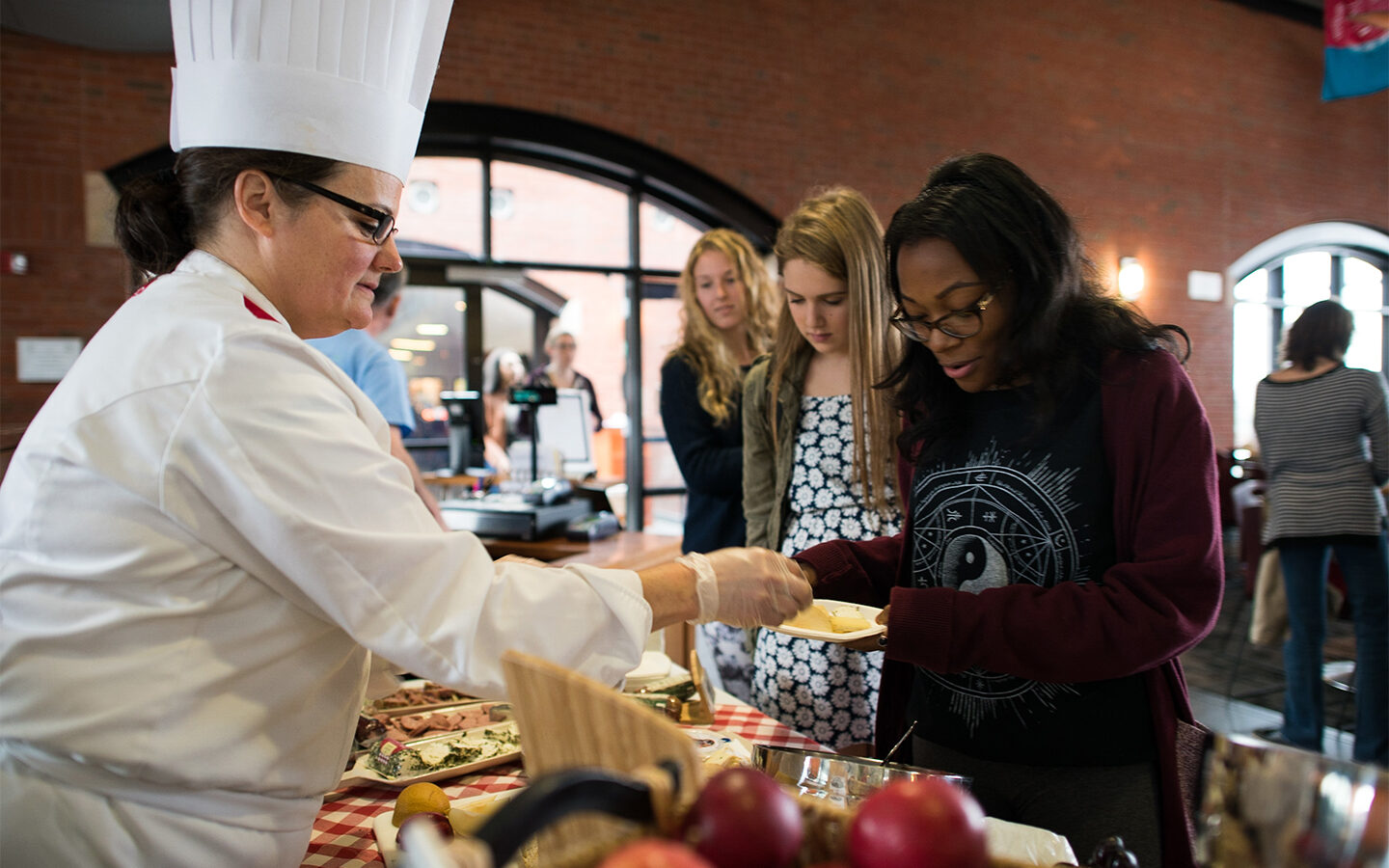 During Champlain's pre-college summer programs, students will eat most meals in the spectacular dining hall of the IDX Student Life Center, offering all-you-care-to-eat buffet service featuring fresh, contemporary menus, often made with local Vermont products. Champlain College is proud to be designated as a Fair Trade Campus, supporting our producing communities economically, socially, and environmentally. There are also times when students will eat picnic/BBQ-style meals during off-campus field trips. Vegan, gluten-free, and dairy-free options are always available. Students can bring snacks with them to campus or buy snacks from several on-campus vending machines and at our campus store. 
Our dining service also accommodates specific food allergies. Please be sure to note any specific food allergies on the forms sent to families once paid in full. We will work with you to ensure all dining needs are addressed.
Recreational Activities*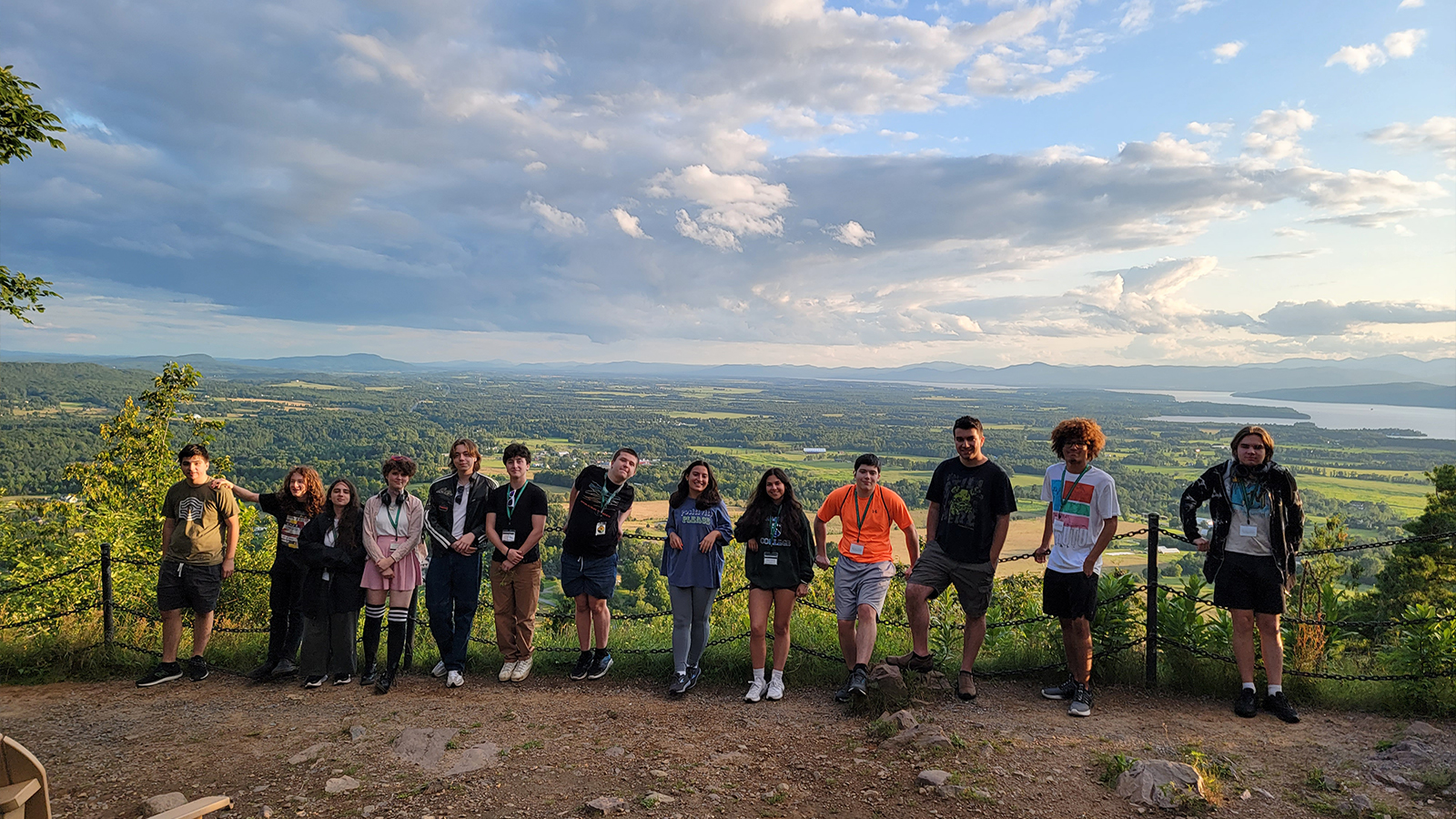 Our pre-college summer programs are intensive. However, we prioritize a healthy approach and build some time to relax and have fun into the schedule on a daily basis. Every day after lunch, we set aside an hour for students to rest or play outside on the quad. Every evening after dinner there are planned activities to keep students engaged and busy. Some evenings offer students choices of advanced classes in addition to recreational opportunities. Other evenings offer required group activities designed to build community within the program. Year after year, students tell us that our recreational programming helped them make strong connections with their peers outside of the classroom while they were here on campus.
*Credit-bearing program schedules differ to allow more time for academics while still providing students with opportunities to relax and re-energize.
Burlington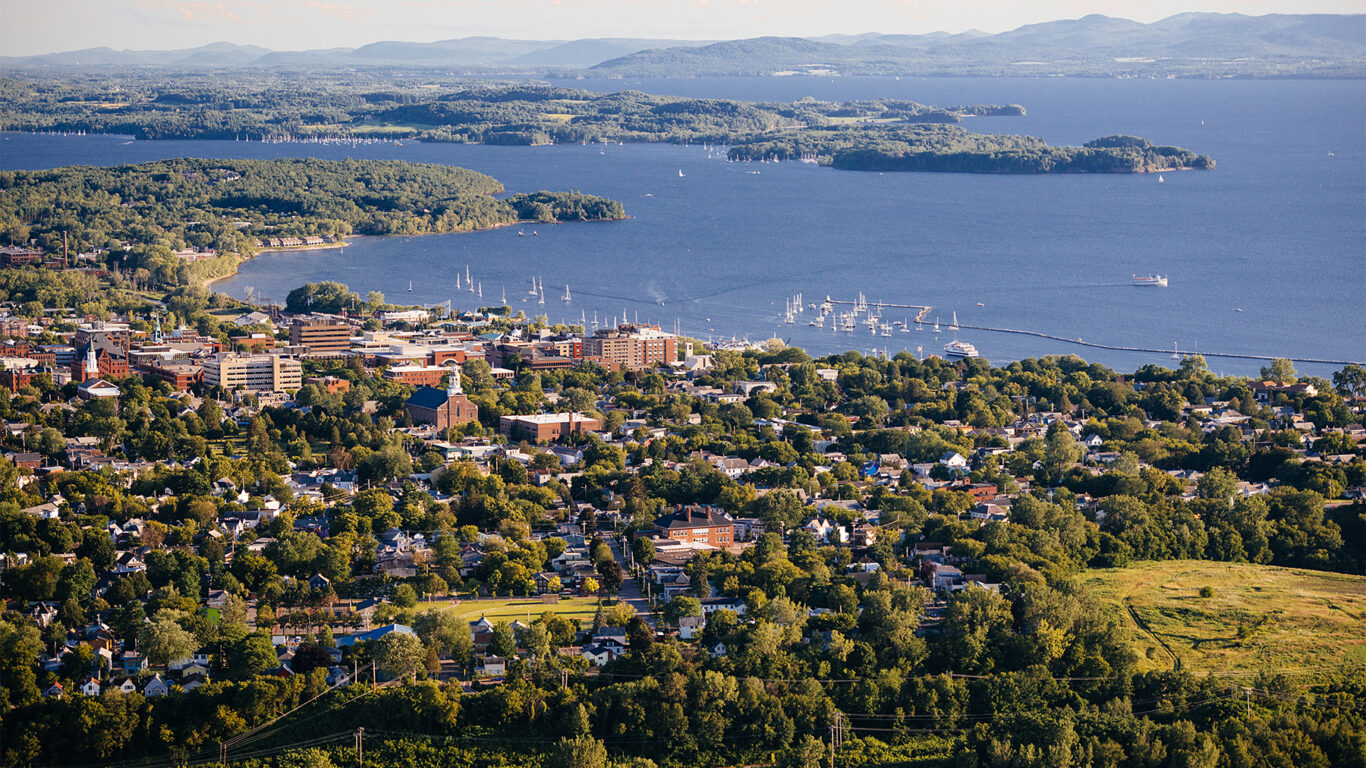 Tucked into the shore of Lake Champlain, downtown Burlington is a safe, walkable city home to an eclectic mix of shops and restaurants and is well-known for the Church Street Marketplace. This pedestrian-only shopping district offers plenty to explore, including shops, cafés, restaurants, and coffee shops. There are bike lanes around the downtown area, so getting around the Greater Burlington area on two wheels is easy. There's also a 7.6-mile bike path that runs along the lake and connects to the Colchester bike path. Vermont has an abundance of beautiful mountains to hike, ranging from leisurely hikes for beginners to more challenging terrain, all within one hour's drive of Burlington. Students will have opportunities to explore downtown Burlington and the surrounding area with their Academies during planned outings.
Academy Expectations
Our pre-college summer programs offer a safe and inclusive supervised environment for students to experience their growing independence. Students are required to demonstrate a level of maturity and independence that will allow them to be responsible for attending and participating in all of their academic sessions and recreational activities, to navigate rigorous academics and group settings, and to manage their own health needs (including medications and nutritional requirements). If a student has a physical or mental health circumstance that may affect their participation or safety, parents should consult with the Program Director as well as the student's physician and/or mental health providers. Please note that although the Pre-College Programs have access to an on-call nurse for consultations, there are no medical or counseling services available on campus. If treatment is required, a student will be transported to the University of Vermont Medical Center or a local urgent care facility.
Safety
Student safety is very important to us during pre-college summer programs. The Campus Safety team at Champlain College participates in each program orientation to make sure that students know how to stay safe on campus. In addition, the Campus Safety team monitors the campus 24 hours a day, providing each program access to services and support when needed.
Code of Conduct
In order to ensure that everyone has an enjoyable, safe, and educational experience during our residential programs, we require students to adhere to a Code of Conduct for the duration of their time with us. Participation in our programs means you are here to learn, and we have a lot to accomplish together! Students and parents will be required to sign a behavioral contract before the start of the program to ensure that students and families understand program expectations. Failure to comply with the Code of Conduct will result in removal from the program.
Personal Device Usage
Technology – All of the technology required for students to participate in our Academies is provided by the College. Students may bring laptops, ipads, gaming devices and of course personal cell phones for use outside of academic time only. Electronic devices and social media must be turned off during classes and presentations unless approved for use by an instructor. We require that students refrain from using personal email, instant messaging, social media, and gaming platforms during all class and lab times.
Covid-19 Protocols
Champlain's goal is to deliver the best possible on-campus experiences for our students while keeping the health and safety of our community as our highest priority. We continue to align our plans with the latest public health information and guidance, and we will continue to monitor and adjust plans and protocols as needed. We strongly recommend all Champlain College community members follow CDC recommendations and remain up-to-date on COVID-19 vaccination; however, we will no longer be requiring proof of vaccination for students, faculty, staff, visitors, or vendors.
Learn More About Pre-College Summer Programs at Champlain College
Fill out the form below to receive additional information about our programs through our mailing list. If you have any questions, contact us at precollege@champlain.edu, or include them in your form submission, and we will get back to you as soon as possible.